6-Week Sugar Repair Program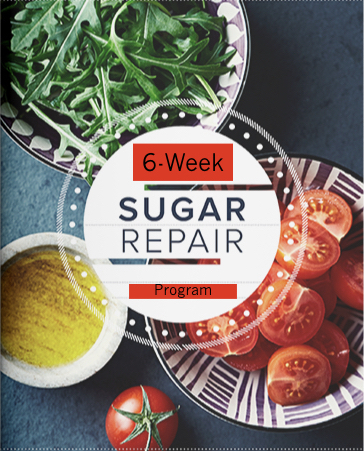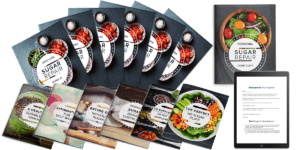 You can repair your entire system when you break up with sugar.  It can be fun, delicious, and sustainable.  Do you suffer and struggle with any of the following?
Overweight or have a hard time losing weight
Dealing with constant cravings for sugar or refined carbs and junk food
Moody and all over the place emotionally
Turning to food for relief when you're feeling upset
Digestive distress
Chronic inflammation and joint pain
Brain fog and inability to focus
Hormonal imbalance and PMS
Skin problems like acne, eczema or psoriasis
Energy ups and downs
Insomnia or trouble falling asleep
Heart problems
Poor memory
Depression or anxiety
Diabetes
Autoimmune conditions
Cancer or disease
All of these things are worsened by sugar. When you get rid of sugar you do yourself a huge favor in so many ways.
Here's what's included in the 6-Week Program:
Full 6-week meal plan with delicious sugar detox friendly recipes that you'll probably end up using for the rest of your life (they're that good)
Recipe book with omnivore (meat-eaters) recipes
Recipe book with vegetarian recipes
Shopping lists so the grocery store has no power over your choices
Complete sugar repair guide that walks you through all the extra practices you can do to make sure your sugar repair program creates lasting results
Six (6) Private Health Coaching Sessions: You will receive one (1) private health coaching session per week for a total of 6 weeks, to guide you through this 6-week journey.
Weekly Email Coaching Support:  I will email you weekly to provide encouragement so you don't feel alone.
Not only do we address the physical addiction to sugar, but we'll thoroughly work through your emotional addiction to sugar (the true root of the issue)
With this program, you get massive accountability, guidance, and support to create lasting changes and transform all areas of your life. You'll never feel depleted, in fact, you'll probably feel better than ever.
Here's what you can expect with this program:
Clarity and awareness, no more brain fog or difficulty being present and remaining focused
Emotional wellbeing and stability and no more need to eat your feelings
Awesome digestion which equals MORE energy to enjoy your life (the two go hand in hand)
You'll feel empowered to take responsibility for your own health and learn to speak the language of your beautiful body
A glance in the mirror after a shower will show you a glowing healthy being looking back
Total support and guidance along the way so that you never feel lost or lacking
A brand new lifestyle option and tools at your disposal that you can continually use in your self-care practices
A few less numbers on the scale of weight and a few more on the scale of feeling great